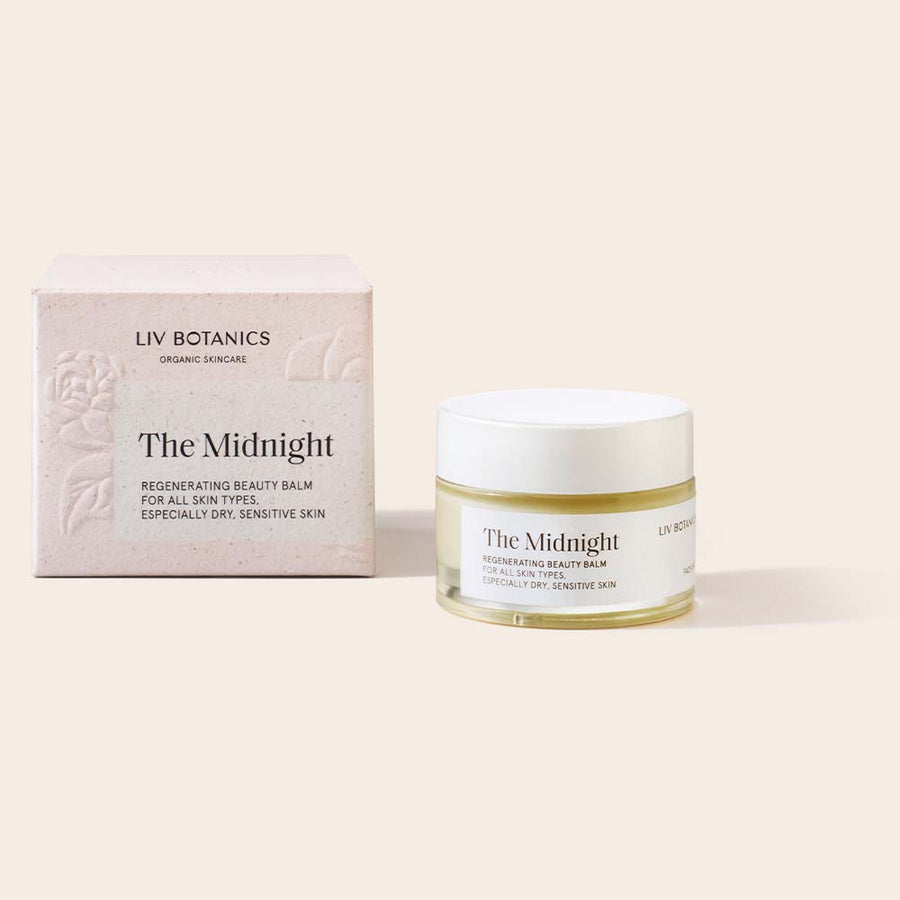 Works while you sleep and take your skin to a new level.
The Midnight is free from skin-clogging waxes, fillers, and stabilizers. Due to this our balm may melt or change in consistency when exposed to higher or lower temperatures. A natural process that doesn't affect the efficacy of the product one bit. From solid to liquid, The Midnight is there for you to repair and rejuvenate your skin. If you wish to keep the balmy texture, please store The Midnight in a place below 20 degrees.

Has your balm turned liquid?
Don't worry, you can perfectly use The Midnight in this way. When you like to restore it to its smooth surface here's what to do:
- Make sure the lid is closed tight and place the jar in a bowl of very hot water. By doing so you fully re-melt the content of the jar into a fluid.
- Place the still warm jar in the back of your refrigerator (this is often the coolest area). Let it stay there overnight and The Midnight will reset to a solid.
- Before you put in on your skin, let the balm return to room temperature. Or on very hot summer days, enjoy it chilled for an extra cool and soothing treat.
Ingredients
Butyrospermum Parkii (Shea) Butter (sp. V. nilotica)*, Mangifera Indica (Mango) Seed Butter*, Prunus Armeniaca (Apricot) Kernel Oil*, Bisabolol**, Cylindrotheca Fusiformis (Algae) Extract**, Punica Granatum (Pomegranate) Seed Oil*, Tocopherol (Viamin E)**, Helianthus Annuus (Sunflower) Seed Oil**, Lecithin**, Oenothera Biennis (Evening Primrose) Oil*, Rosa Canina (Rosehip) Fruit Oil*, Caprylic/Capric Glycerides**, Anthemis Nobilis (Roman Chamomile) Flower Oil**, Cananga Odorata (Ylang Ylang) Flower Oil**, Ascorbyl Palmitate+, Linalool+, Benzyl Benzoate+, Farnesol+, Benzyl Salicylate+, Geraniol+

* Organic ingredient
** Natural, cold-pressed, unrefined or wild-harvested ingredient
+ Component of essential oil

All used ingredients are plant-based, non-gmo, vegan and palm-free.

Organic & Made Entirely From Plants
We use organic ingredients from crops that are grown without synthetic pesticides, herbicides and fertilizers.
Those crops are subject to natural processes like heat, drought and cold.
This means that per batch, slight variations and changes in colour and scent may occur which are completely normal.
It's the beauty of a truly natural product!

Ultieme voeding voor de nacht
Mijn huid is zo opgeknapt na het gebruik van deze goddelijke creme. Voedend en zo fijn in gebruik.
I love it!
Feels amazing on my skin, smells amazing too! I have really sensitive skin , but I've had no problems and my skins felt so nice since using this! 100% recommend :)
I love this product!
The Midnight is my absolute favourite product from the Liv Botanics range. It does exactly what it promises ("it works while you sleep and takes your skin to a new level") but also more! I have used many moisturising creams and balms over the years but this is the only one that leaves my skin super moisturised, supple and dewy without clogging my pores or feeling oily and heavy. It is also organic and without harmful ingredients which is another major plus.
Rich!
What a delight to use! It feels so rich and soft on my skin, it melts when I put in on and makes me feel so nourished. It feels like a spa treatment.
A must have 🥰
An absolute must have in your beauty routine. My skin can't go without this wonderfully deeply moisturizing cream. It's silky and just a pleasure to apply. Smell is fabulous! A wonderful delight!